Please read completely prior to Arrival
MUST BE COMPLETED PRIOR TO ARRIVAL
Every member of your group must complete the waiver linked below prior to arrival. You must use a unique email and phone number for each waiver for it to process. You will not be able to sign this on site and must be done by every group member before your scheduled time.  If members of your group change, the new members must complete a new waiver.  If you experience any technical difficulties please email us at Info@NightmareCombat.com prior to arrival. Onsite staff can not assist with waivers.
Weather Alert
We are open Rain or Shine. Waiting during your Entry Time is inside. Any line that extends outside is under a covered awning. If you are traveling from outside the city please leave yourself enough time for travel delays.
Fear Columbus Haunted House
2605 Northland Plaza Dr.
Columbus, Ohio 43231
You can park at any open spot in the plaza. Parking is completely free with ample availability.  Please use caution when approaching the parking lot as the aisle directly in front of our building may be blocked off for vehicle traffic to ensure guests can safely navigate. This is also a fire lane and must be kept completely clear at all times.
How Your Entry Time Works
Please pay close attention to the Entry Time you selected during checkout that is listed on your ticket. You will arrive 15 minutes prior to your Entry Time to account for traffic or travel delays. Once you arrive, please wait in/near your car until your scheduled Entry Time and then proceed to the front doors of the facility.
Entry Times are carefully scheduled and planned and it's critical you show up on time. If you are traveling from out of state make sure to give yourself ample travel time in case of delays outside your control.  We only have a fixed number of weapons for guests so we cannot move Entry Times last minute or make exceptions if you are late or early.
The image below shows an example of where you can find your entry time on your tickets!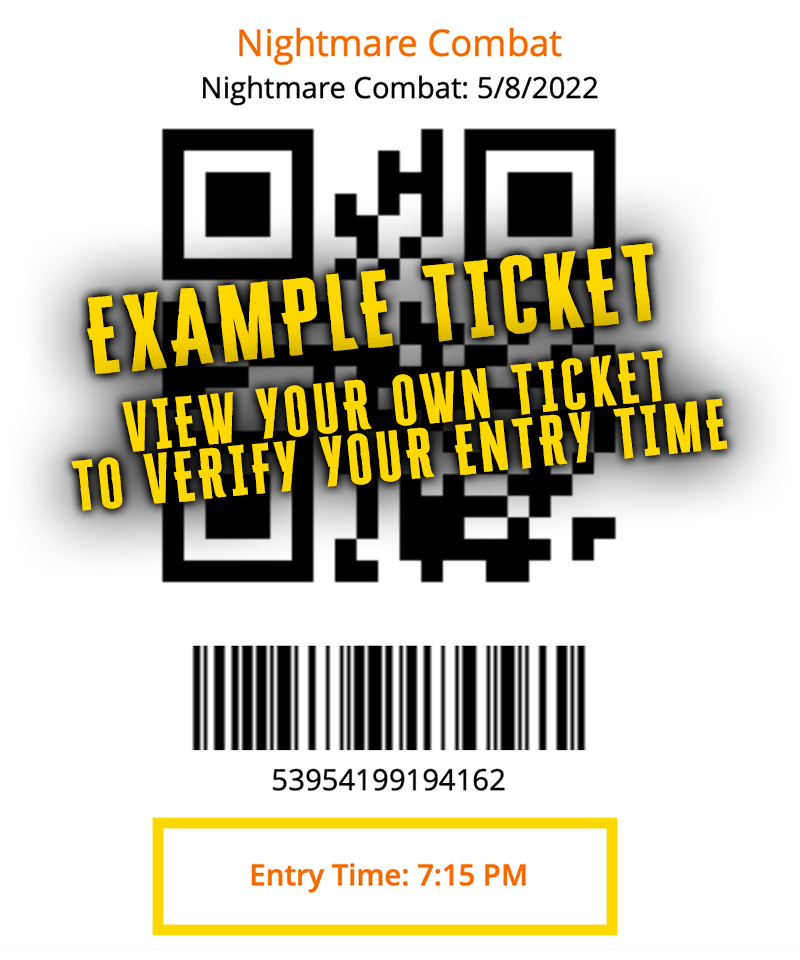 Groups are strictly limited to 1 – 6 members going through the experience together. Groups larger than 6 will be split into smaller groups. There are no exceptions to this rule and it is for the safety and satisfaction of all our guests. Some rooms in the attraction are too small for groups larger than 6. You will only go through the experience with guests you arrived with. You will not be placed with anyone you don't know. You may do this experience in groups smaller than 6 and you can even go alone.
All guests are required to go through a walk-through metal detector and security checkpoint handled by a professionally trained 3rd party security company as well as the Columbus Police Department.  To ensure the safety of all guests and employees, there is a strict no-weapons policy while anywhere on the property including anywhere on Northland Plaza.
LEAVE ALL VALUABLES AT HOME
Please do not bring anything of value inside the facility. Nightmare Combat is a very intense and interactive event. Because of the jump scares, claustrophobic scenes, running, ect we do not want you to lose a valuable possession.
Any item you intend to bring inside the facility must be fully secured in a pocket. You can not enter the attraction holding any items in your hands. (This excludes medical devices such as canes, walkers, or wheelchairs)
No bags of any kind are permitted inside the facility or waiting line. (This excludes any medical devices) 
PROHIBITED ITEMS
No Food or Drinks
Bottles
Lighters
Weapons
Mace or Pepper Spray
Knives
Self Defense Items
Fake Weapons
Recording Devices
Any Light Sources
Nightmare Combat reserves the right to update this list at any point and it may not be reflected online. We have the authority to prohibit any items for any reason not explicitly listed above.
LOST ITEM POLICY
Please be aware that we can not look for lost items until the next business day of your event. Due to a strict schedule and high throughput of guests we can not look for lost phones, wallets or car keys while we are open. We highly urge you to leave everything in your vehicle or at home that isn't absolutely necessary.
We have a full merchandise store when you complete the attraction! This store is credit card only so please plan accordingly. Due to security protocol, you will not be allowed to go to your car to get credit cards or ID's once you leave the store.
An event staff member will hand you a special card when they scan your tickets depending on which ticket type you purchased. Please store this card in a pocket until you are asked for it by our team. Please be proactive with our event staff if you purchased a Photo and you did not receive a card when you got your ticket scanned don't hesitate to remind them. We want to make sure everyone gets what they paid for!
You will get formal training before your mission starts but we have also created a training page on the website that you can review before you arrive or while you wait in line.
The entire attraction is ADA accessible for a standard sized non-electric wheelchair. If you have any concerns or requests please reach out to us directly at info@nightmarecombat.com at least 48 hours before your event date so we can do our best to help you! 
We have updated our policy and the names on your tickets no longer need to match who is attending. In an effort to make the ticketing process easier you do not need to change names on your tickets if members of your group change prior to the event. Please just make sure all members of your group complete the waiver that will be sent to your email.
You must be at least 13 years of age to attend the event. Anyone under 15 years of age MUST have at least one parent/guardian in the group. Everyone must sign a waiver before entering the attraction and anyone under 18 must have a parent sign on their behalf.
Please be aware that this is a very graphic and violent experience featuring full size and weight weapons and 50+ live performers. We want everyone to have fun but this is not an event intended for children. Do not mistake this event with your kids playing classic laser tag. 
Make sure to review the following medical advisory. If there is anything you are unsure of please reach out to your doctor for guidance.
Strobe Lighting
Do not enter if someone in you are sensitive to strobe lights or other flashing lighting conditions. We utilize over 100 strobe lights throughout the attraction including the waiting line.
Fog and Haze Effects
Do not enter if you have asthma or other medical sensitivity to fog. We utilize heavy usage of water based fog machines throughout the attraction.
Recent Surgery or conditions that may be aggravated by this experience.
Nightmare. Combat is a very intense and physically demanding experience. We do not recommend anyone with heart conditions or pacemakers go through the attraction. 
Please contact us directly at info@nightmarecombat.com prior to your event date and time if you have any questions. Our phone system is not currently staffed but we resolve all customer emails extremely quickly. 
Frequently Asked Questions